Breast Lift with Implants
A breast lift with implants, also known as breast augmentation-mastopexy (BAM), is designed to elevate sagging tissue while increasing volume and improving breast shape. Patients often seek this treatment to reverse the effects of aging, or after pregnancy and breastfeeding, once they have completed their family. The rejuvenated outcome can provide a firmer, fuller and more youthful breast appearance. Our board-certified plastic surgeon, Dr. Russell Babbitt, is highly experienced in this procedure, helping women achieve the results of both a breast augmentation and breast lift (mastopexy) in one surgery.
Who Is a Candidate for a Breast Lift with Implants?
Prior to a breast lift with implants procedure, you should be in generally good health without any medical conditions that would inhibit the healing process. It is also recommended for you to be at or near your goal weight, as moderate fluctuations after surgery can alter your results. Additionally, Dr. Babbitt finds that ideal candidates for a breast lift with implants are those seeking to:
Lift sagging breasts (ptosis) and increase their size
Remove excess skin associated with breast ptosis
Enhance the volume and shape of the breasts
Adjust the location of the nipples/areolas 
Improve and balance breast symmetry
During an initial consultation, which involves a review of your health history and a breast examination, Dr. Babbitt will be able to determinee if you are an appropriate candidate for a breast lift with implants, or if an alternative breast surgery would be better suited for your unique needs and goals. 
What Does a Breast Lift with Implants Involve?
A breast lift with implants is typically performed as an outpatient procedure, spanning approximately two to three hours of surgery. Depending on your needs, Dr. Babbitt will recommend the most appropriate surgical technique that can help you achieve your aesthetic goals. During the consultation process, he will explain the various types of implants (pros and cons), size and incision placement.
In general, a breast lift with implants involves removing excess skin and lifting and reshaping the remaining breast tissue. Dr. Babbitt takes great care to ensure incisions are skillfully placed for the least amount of visible scarring once the healing process is complete.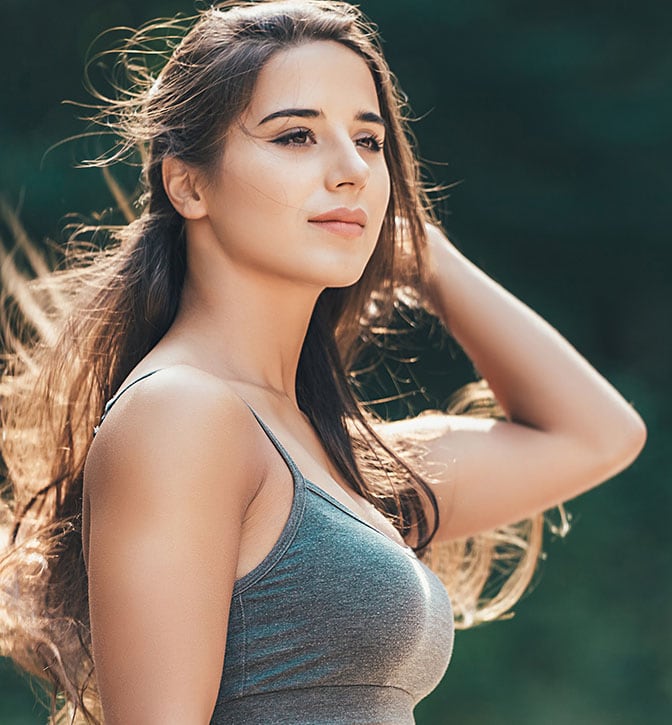 What Can I Expect in my Breast Lift with Implants Recovery?
The most common symptoms experienced by patients following a breast lift with implants surgery are temporary bruising, swelling, tenderness, and discomfort near the incision sites. With appropriate rest, recommended compression garments, and pain medication taken as directed by Dr. Babbitt, these symptoms should be well-managed and gradually fade. 
Most patients require at least one to two weeks of downtime before returning to work and their normal daily routines. A minimum of four to six weeks are needed until more strenuous activities and rigorous exercise may be resumed. Dr. Babbitt will monitor your progress and provide guidance for the recovery process during routinely scheduled follow-up appointments.
How Much Does a Breast Lift with Implants Cost?
The average cost of a breast lift with implants ranges from $13,325 to $14,175. This fee includes the surgeon's fee, anesthesia, use of the surgical facility, aftercare and more. The varying cost is dependent on the complexity of your surgery and your choice of implants. After the initial consultation, a personalized estimate will be created based on the specific details of your customized treatment plan. Our team is available to answer your questions at any time and discuss payment options offered at Plastic Surgery of Southern New England.
For more information about the breast lift with implants procedure, or to schedule a consultation with Dr. Babbitt, please contact us today!