NATURAL FEEL. BEAUTIFUL LOOK. PEACE OF MIND.
Finally, beauty without compromise. Now available in our office, the IDEAL IMPLANT® Structured Breast Implant has a natural feel, and advantages over silicone gel, such as only saline inside for peace of mind. Unlike silicone gel implants that have a high rate of silent rupture and require an MRI scan for detection, with the IDEAL IMPLANT, you can look in the mirror each day and be confident your implants are intact.
Implants are not all created equal. Your breast implants should provide natural beauty, confidence, and – above all – peace of mind.
Years of research and testing led to this innovative design, with a series of implant shells nested together and two separate chambers, which hold the saline filler. The internal structure controls movement of the saline, and is designed to reduce folding and wrinkling, thought to be the main cause of implant rupture and deflation. On the outside, the edges have been lowered for better contouring to the chest wall.
IDEAL IMPLANT is a Structured Breast Implant made from safe and proven breast implant materials and manufacturing processes. It contains no silicone gel or new materials. It has a natural feel because of its unique design with an internal structure. And because the design is patented, no other breast implant company can manufacture or sell the IDEAL IMPLANT.
The IDEAL IMPLANT was approved by FDA and Health Canada in 2014, based on results from a multi-center US clinical trial with 502 women that started in 2009. The approved IDEAL IMPLANT is made in the United States at an FDA-inspected facility that has been manufacturing silicone medical devices for more than 30 years. Quality is built-in and a limited warranty is included, so you can feel confident in your choice of the IDEAL IMPLANT.
WHY COMPROMISE? CHOOSE A NATURAL FEEL AND YOUTHFUL SHAPE WITH THE SAFETY OF SALINE.
10-YEAR CUMULATIVE INCIDENCE OF SILICONE GEL IMPLANT RUPTURE
WHAT IS A SILENT RUPTURE?
Ruptures of silicone gel implants are silent – looking in the mirror does not tell you if your implants are intact or ruptured. FDA recommends a MRI scan every two years for detection. But with IDEAL IMPLANT, you know your implants are intact by simply glancing in the mirror. Rupture is easily detected and the saline is safely absorbed by the body.
The Structured Breast Implant has a natural feel with only saline inside, eliminating concerns about silent rupture that can occur with silicone gel implants. Be beautiful and confident knowing IDEAL IMPLANT was designed with your lifestyle and well-being in mind.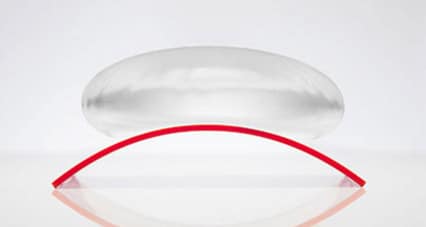 The saline implant is similar to a water balloon. Because it has no structure, it does not have the natural feel of breast tissue. The saline implant is usually placed under the chest muscles. Without an internal structure, the upper portion collapses when held upright and it tends to wrinkle.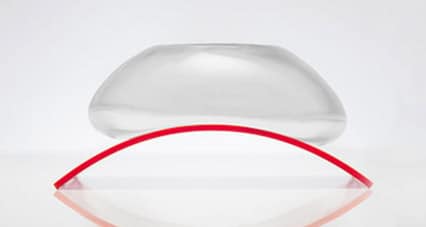 The silicone gel implant feels natural, which is its advantage over the saline implant. Because it is filled when manufactured, as opposed to during the surgery, it can be damaged if forced through a small incision. Rupture of a silicone gel implant is undetectable by looking in the mirror or by physical examination, and requires an MRI scan of the breast for detection.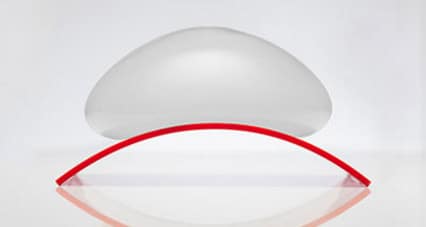 The structured IDEAL IMPLANT feels natural, and has advantages over the silicone gel implant. It has an inner shell around the inner chamber, which holds the inner saline filler, and an outer shell around the outer chamber, which holds the outer saline filler. Between these shells are one to three baffle shells. This internal structure controls movement of the saline and gives the IDEAL IMPLANT its natural feel.
IN THE IDEAL WORLD YOU SHOULD BE ABLE TO LOOK IN THE MIRROR AND KNOW YOUR IMPLANTS ARE INTACT.
WHAT ARE THE ADVANTAGES OF IDEAL IMPLANT OVER SILICONE GEL IMPLANTS?
The IDEAL IMPLANT has a natural feel without risk of silent rupture, a youthful shape and contour, and many advantages women value over round silicone gel implants:
Ideal Implants Before & After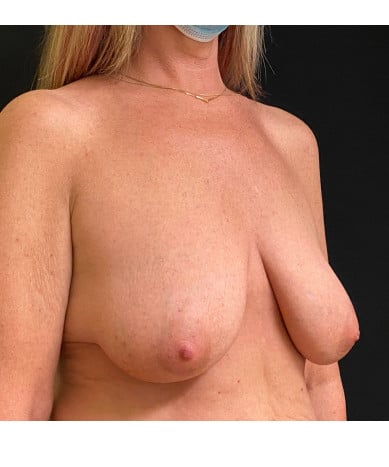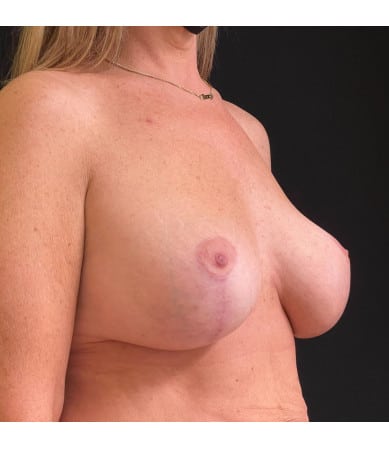 IDEAL IMPLANT Clinical Advantages
Lower rupture rate
Lower capsule contracture rate
Higher rupture strength
Smaller incision
Easy to remove
IDEAL IMPLANT Filler Advantages
Only saline inside for peace of mind
Safety of saline
Saline is harmlessly absorbed by the body
Look in the mirror and know implants are intact
IDEAL IMPLANT Rupture Advantages
Lower rupture rate
No risk of silicone gel in tissues
No MRI scans needed to detect ruptures
No silent ruptures
Intact silicone gel implants are FDA-approved and safe. However, if ruptured, FDA says the "implant and any gel should be removed." Since these ruptures are silent, an MRI scan is recommended every two years to detect rupture.
Schedule Your Consultation Today!