Reconstruction After Breast Cancer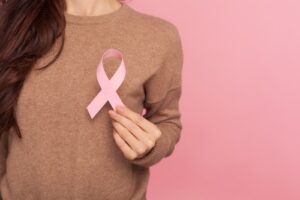 October is National Breast Cancer Awareness month – a time to not only be on the lookout for cancer but also to celebrate the overcoming of this disease. If you have lost a breast or breast tissue because of breast cancer, you should know that breast reconstruction surgery is a possible option. Every patient who has been through cancer and every situation are different, of course, but here are some things about breast reconstruction for you to start thinking about.
What you should know about breast reconstruction
If you are considering breast reconstruction, these facts may help you to begin the discussion with your doctor:
1. It can happen during the mastectomy or lumpectomy, or it can be done months or even years after. If a woman has to have radiation therapy, she may decide to wait until this is finished.
2. You will have to ask your doctor exactly what will be done during the procedure, of course, but, basically, the three options are implant reconstruction (artificial implants), autologous reconstruction (using tissue from another place on your body), or a combination of both.
3. Breast reconstruction can rebuild the shape of the breast but it can't restore sensation to the breast or nipple, although some sensation may be regained over time.
4. The nipple and areola can be reconstructed in the final stage of breast reconstruction if they weren't preserved during the mastectomy. There are different ways of doing this, including skin grafts, tattoo ink, and even 3-D nipple tattooing!
5. Breast reconstruction may include surgery on the unaffected breast as well, so that the two breasts will match in shape and size.
6. Research has shown that breast reconstruction does not make it more difficult to check for recurring cancer in the future, and it does not increase the chances of breast cancer recurring.
Remember, although you have been through a lot, you have control over what happens next! If you do opt for breast reconstruction, the staff at the Plastic Surgery Center of Southern New England wants to be there for you. Call for a consultation today at the Fall River office, at (508) 567-3202.