Rejuvenate Your Skin with Dermal Infusion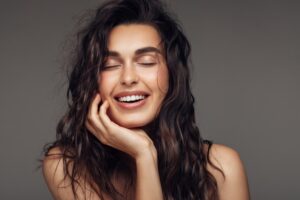 Dermal infusion is a skin-resurfacing treatment process that uses extraction, exfoliation, and infusion of serums together in one step. It uses a device that vacuums and exfoliates debris and dry skin while then putting a customized combination of cleansing, moisturizing, and nourishing elements back into your skin.
What does Dermal Infusion treat?
The great thing about Dermal Infusion is that it treats a variety of skin concerns in one session. The four serums that are used include ultra-hydrating properties that help with fine lines, a vitamin C infusion for antioxidants, a skin brightener for hyperpigmentation support, and a pore clarifying treatment to address large pores and acne.
How do I prepare for Dermal Infusion treatment?
There aren't a lot of preparations required for Dermal Infusion. If you are using a retinol treatment however, you should stop using it 3 days before and after your treatment. If you are prone to cold sores, we also need you to notify us beforehand to pre-treat you before giving you a lip treatment. Lastly, be prepared to avoid sun exposure for two weeks following treatment. Use a quality SPF as you will be more sensitive to UV exposure.
What is the Dermal Infusion procedure like?
First, we begin by cleansing the skin, then a personalized serum is selected based on your skin goals and concerns. In addition to a personalized serum, we also base the treatment type and handpiece tip based on your own skin sensitivities and skin type. Your neck and face are treated entirely, but you may also want to do a body treatment which would also include the chest and back as well. Don't worry about it being painful, patients have described it as feeling a little bit like a cat's tongue.
What can I expect after my Dermal Infusion treatment?
Your skin may look a little red for 30-60 minutes following your procedure but your skin will feel smoother, lighter, and well-hydrated. You can then continue your normal skincare routine after the treatment but remember to wear SPF!
How many Dermal Infusion treatments are needed to see results?
Many patients notice results after just one treatment. However, if you have more severe skin conditions or concerns like cystic acne or hyperpigmentation, you might need more than one treatment to see significant results.
If you are interested in dermal infusion or want to learn more about it, schedule a consultation with us by calling (508) 567-3202.