The Spectrum laser is a unique combination of 4 lasers and Intense Pulsed Light therapy (IPL). Our team is proud to provide Spectrum laser and IPL treatments for a wide array of cosmetic concerns to patients in Fall River, Boston and nearby areas of Massachusetts. Call our office today at (508) 567-3202 with questions or to schedule your Spectrum Laser & IPL treatment.
What is IPL?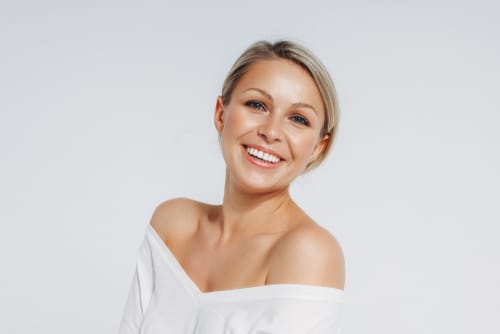 IPL is a treatment that utilizes intense pulsed light to address a variety of cosmetic and dermatologic concerns. This advanced treatment diminishes the signs of aging and other skin conditions using light waves that absorb into pigments and deeper layers of the skin where collagen is produced. It represents one of the most significant advances in the field of skin rejuvenation. 
What Can the Spectrum Laser Treat?
This device includes 4 types of lasers plus the non-ablative benefits of IPL. It can be customized to address many concerns, including:
Hyperpigmentation
Spectrum is an excellent treatment for diffuse hyperpigmentation as well as localized pigmented lesions. The light from the device targets the areas in which melanin has concentrated, resulting in too much pigment. Spots and discoloration are broken apart by the light energy. They fade over time. 
Broken capillaries
Like light energy is absorbed by concentrated areas of melanin, it is also absorbed by hemoglobin. Broken capillaries sit just beneath the surface of the skin, where IPL can target the troublesome pigment. Broken apart, the concentrated hemoglobin can be processed and flushed from the body. 
Tattoo removal
The Spectrum device features a Q-switch laser that is efficient at targeting the pigment used in tattoos. Most pigments, newer and older, can be broken down gradually by the thermal energy within the Q-switch technology, resulting in progressively clearer, ink-free skin. 
Laser hair removal
Unwanted hair can be a problem of the past after Spectrum laser treatment. To eliminate unwanted hair in large or small areas, the Spectrum device is adjusted to the 810 nm diode laser mode. Hair thins and sloughs off starting after the very first session. However, for long-term hair reduction, patients need to complete a series of 5 to 10 treatments scheduled several weeks apart. The intervals of laser hair removal address all stages of the hair growth cycle and continually disable the follicles from future hair growth. 
Skin resurfacing
Erbium Yag laser treatments are known for their advantageous benefits for skin rejuvenation. As we age and lose collagen, we tend to notice the signs of sun damage and pigment changes caused by hormones and other factors. Laser resurfacing is commonly used to refresh skin tone and soften texture on the face, neck, chest, and hands, where sun damage and photo aging is most prevalent. 
Am I a Good Candidate for Spectrum Laser Treatments?
Many people are good candidates for Spectrum laser treatments. Your provider will determine if you are a good candidate by evaluating your skin type and tone. While Spectrum treatments are considered safe when performed by a trained, licensed professional, this procedure is not deemed suitable for people with very tan skin, pregnant women, patients who are taking Accutane acne medication, or people with severe acne or dermatologic conditions. We want our patients to get the best results from their chosen service, so take care in determining which solution will be the safest and most effective for their needs. 
What Skin Conditions Can Be Treated with the Spectrum Laser?
Rosacea
Like cosmetic concerns, IPL is an excellent modality for correcting rosacea, as well. Like lasers, IPL works by heating certain dermatologic and biological structures beneath the skin. Targeted by intense pulsed light, these structures are destroyed and absorbed by the body. 
Acne
The thermal energy from intense pulsed light can eradicate the bacteria that contributes to acne and reduce the redness and inflammation that comes with breakouts. 
Are Treatments with the Spectrum Laser Painful?
Most patients tolerate treatments very well. The intense wavelengths of light are delivered in ultra-fast pulses. As the thermal energy comes into contact with its target and the light is absorbed, a snapping sensation may occur. As treatment progresses, it is possible for the skin to feel generally warm but not painfully hot. Patients describe the treatment is painless or mildly uncomfortable at certain points. 
What Are the Side Effects of Spectrum Treatments?
Spectrum treatments can cause a few side effects, such as
Redness

Swelling

Light bruising
Side effects from your Spectrum treatment can be managed by carefully following your post-treatment care instructions. The side effects tend to resolve a little each day. Usually, after one week, they have resolved and patients see the initial benefits of the procedure.
How Long Will It Take To See Results?
You begin to feel and see the results immediately following your first session. Positive results are usually reported 2-4 weeks after your 4 th session and will continue to improve for several weeks following the treatments cycle.
Schedule Your Spectrum Consultation Today!
If you are interested in learning more about the value of Spectrum IPL or laser treatment, schedule a consultation with us by calling (508) 567-3202 You can also fill out the form on our contact page, and our team will help you arrange a convenient appointment time. Our practice serves Fall River, Massachusetts and surrounding areas.