What Is Skin Cancer Reconstruction?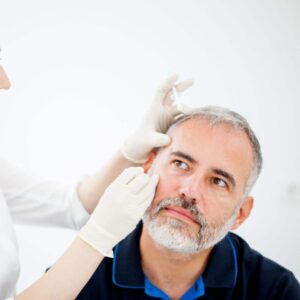 It may seem like skin cancer would be relatively harmless, but it can actually be deadly. It is also the most common type of cancer – however, the good news is that paying attention to any new marks on the skin is an easy and effective way to catch this deadly disease early.
If you have had skin cancer removed, you may be disturbed at the wounds left behind. Skin cancer reconstruction from The Plastic Surgery Center of Southern New England can help. Here are some things you should know about skin cancer and skin cancer reconstruction.
You should make an appointment with your doctor right away if you see any odd changes in your skin, such as a painful lesion or a mole that changes in size or color. The earlier skin cancer is diagnosed the better.
Basal cell carcinomas are found in areas that have a lot of exposure to the sun. They are diagnosed when a patient notices a sore that just won't heal or heals and then comes back.
Skin cancer can appear on areas of the body that are never exposed to the sun. These are typically melanomas.
If you've had one or more serious sunburns or have a family history of the disease, your risk for skin cancer is increased. Your risk is also increased if you've had it before.
Skin cancer can affect anyone, no matter what their skin tone is. You should always wear sunscreen, even on a cloudy day, and wear clothing that protects you from the sun.
Skin cancer reconstruction can range from a "local flap" procedure, in which healthy, adjacent tissue is used to cover the wound, to major reconstruction for extensive skin cancer, in which healthy tissue has to be removed from another part of the body and transplanted onto the wound.
You can do many things to avoid skin cancer, and if you have a wound remaining after you've had skin cancer removed you can do something about that, too. Call The Plastic Surgery Center of Southern New England in Fall River to discuss skin cancer reconstruction. The number is (508) 567-3202.