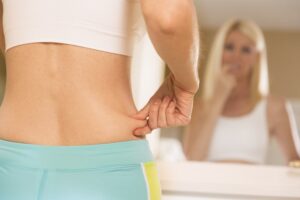 Let us tell you about EmSculpt.
How Does EmSculpt Work?
EmSculpt uses HIFEM. HIFEM stands for High-Intensity Focused Electro-Magnetic energy. This energy induces powerful muscle contractions when applied to the treatment area. With how powerful this energy is, it is able to create muscle contractions far stronger than what you could achieve just through regular exercise. When a muscle is exposed to these contractions, the muscle tissue is forced to adapt. It responds to these extremes by remodeling its inner structure. That means more muscle building and sculpting for you.
Who Is A Candidate For EmSculpt Treatment?
Almost everyone could benefit from an EmSculpt procedure. Whether you have a few pounds to lose or just want to tone up your muscles, EmSculpt also helps to add core strength without doing a single plank exercise.
How Long Does EmSculpt Take?
A full series of EmSculpt only takes four 30-minute-long sessions. These sessions are usually done 2-3 days apart. If you have specific goals in mind, we're happy to help you create the perfect treatment plan tailored to those goals.
Is EmSculpt Painful?
The EmSculpt procedure itself is not painful. During the procedure, the treatment area is subjected to thousands of involuntary contractions that most report feels like an intense workout. It is a completely non-invasive procedure meaning there's no stitches or side effects to worry about. You also don't have to worry about downtime or pre/post-treatment preparation or recovery.
Does EmSculpt Actually Work?
Absolutely! The EmSculpt system has been through testing for safety and efficacy in seven independent US-based clinical studies.
When Will I See Results?
You should begin to feel and see the results immediately following your first session. More positive results are usually reported 2-4 weeks after your 4th session and will continue to improve for several weeks following the treatment cycle.
If you are want to learn more about Emsculpt, schedule a consultation by calling (508) 567-3202. Our practice serves Fall River, Massachusetts and surrounding areas