Plastic Surgery Options After Weight Loss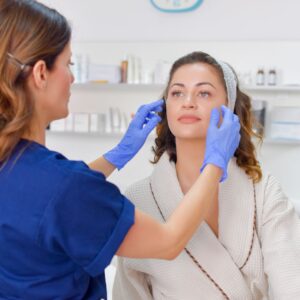 It isn't easy to lose weight, but you did it! It is definitely something to be proud of – it takes a lot of self-discipline and hard work, and many people give up before they ever get too far. Unfortunately, when you lose a lot of weight, very often excess skin and some stubborn fat can remain, making it difficult for you to see the results you want. The Plastic Surgery Center of Southern New England can help, with body procedures that can accentuate the work you have done.
Abdominoplasty
This procedure, often known as a "tummy tuck," removes excess skin that remains in the stomach area after weight loss and helps to tighten and smooth the muscles.
Liposuction
Liposuction can be used in different parts of the body to get rid of that last bit of fat that just doesn't want to seem to leave, making your body look more toned and slimmer.
Mastopexy
Also known as a "breast lift," mastopexy is often requested by patients who have lost volume in the breasts after weight loss.
Facelift
A facelift can help to get rid of sagging skin on the face that remains after weight loss, such as  excess skin in the jaw and under the chin.
Arm, Back, or Buttock Lift
The underarm region, the back, and the buttocks naturally accumulate fat as we age, and they are areas that can be hard to tone up after weight loss. With an arm, back, or buttock lift, excess skin and fat are removed.
Body Contouring
Body contouring is a combination of procedures that can give you the best shape and tone overall.
When you lose weight, it is something to celebrate. You'll feel better overall, have more energy, and be healthier. However, it can be hard to celebrate when you look into the mirror and don't see the body you deserve to have after all of that hard work. With one or a combination of these procedures, you can finally have the body you've always wanted. The Plastic Surgery Center of Southern New England in Fall River can help you – call (508) 567-3202 today!